Sensorfact has been selected for Techleap.nl 's program "Flattening the Climate Curve" as one of the highest potential tech companies in the Netherlands. With this programme, Techleap.nl, entrepreneurs and media organisations are helping Dutch start- and scaleups grow faster internationally.
An experienced and independent selection committee assessed all the companies that applied for the program based on their year-on-year company growth, understanding of their market and the product/service they sell, annual revenue and current or future funding. More importantly, the selected scaleups must help "Flatten the Climate Curve" and are making innovations and big steps in for example the energy and waste industries.
Together with ten other innovative tech companies, we will participate in the Techleap.nl Rise Program in which we will be supported through brand exposure on the international market and thought leadership by leading entrepreneurs like Pieter van der Does (Adyen), Ali Niknam (Bunq), Steven Schuurman (Elastic), Chris Hall (Bynder), Michiel Muller (Picnic) and Gillian Tans (Booking.com).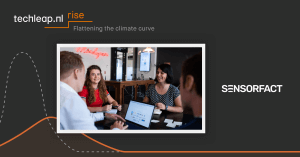 Our shared vision on reducing the human footprint
Sensorfact was founded by the end of 2016 and has grown to 300+ customers in 7+ countries. We aim to reduce the human environmental footprint by eliminating all industrial energy waste. We believe that if saving energy is easy and reliable, industrial companies will improve their energy efficiency. Likewise, Techleap.nl's program "Flattening the Climate Curve" aims to create a sustainable future by accelerating Dutch tech companies with a comparable vision and positively impact the environment on a global scale.
About Techleap.nl
Techleap.nl has the aim to make the Netherlands the number one tech ecosystem in the world. By creating programs such as "Flattening the Climate Curve", Techleap.nl connects multiple players, projects and initiatives to align national efforts and bring data insights into the current state of the Dutch innovative tech ecosystem.
Read more about the Techleap.nl Rise Program and the selected scaleups here.